50TH AND FRANCE DISTRICT WAYFINDING SYSTEM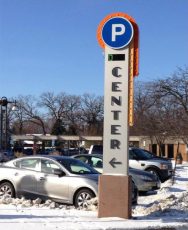 In 2014, Blackstone Contractors was selected by the City of Edina to install a parking management and wayfinding system that wirelessly communicated with real-time parking availability, between the District's three parking ramps and a series of directional and wayfinding signs throughout the District. The centrally controlled system employs various sensor types to change message display indicators based on parking availability and change individual sign's internal LED lighting on or off depending on existing ambient conditions.
Blackstone Contractors solicited the quality and artful skills of Nagle Signs to fabricate and install custom parking ramp signage and graphics, taking cues from the District's existing iconic theater lighting. Killmer Electric made the final electrical and networking connections for an operational system. The parking and wayfinding management sensors and communication system were supplied by Q-Free/TCS, out of Massachusetts.