Anytime Fitness Corporate Headquarters – Trail S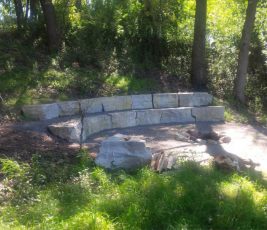 In 2015, Blackstone Contractors was brought-on by DJ Kranz, the general contractor for Anytime Fitness' 80,000 square foot corporate headquarters in Woodbury, to lead a design-build team for the site's trail and boardwalk system improvements. Blackstone walked the 38-acre site with the Owner to collaboratively develop a vision for potential site improvements and then partnered with Wenck Associates, Inc. to design a looped trail system, amend site plan approvals and perform intermittent construction observation.
Blackstone Contractors selectively cleared brush and trees, graded and built approximately 2500 lineal feet of soft surface trail and boardwalk, installed two timber pedestrian bridges, stabilized creek banks and built a natural stone amphitheater and fire pit gathering node among the property's forested and wetland settings. Wheeler Lumber engineered and supplied materials for the two timber pedestrian bridges and boardwalk.